Our Process & Client Experience
12-Week Financial Planning Process
Initial Call (30-45 minutes): We will use this time to assess a mutual fit and answer any questions about our process, firm or pricing.
Discovery Meeting (45-60 minutes) We will dive deeper into your immediate concerns, current situation and long-term plans to understand your unique needs. After this meeting, you would sign the agreement and pay 50% of the initial planning fee.
Meeting #1: Get Organized (60 minutes): We will send you a list of documents to upload before our first meeting and will use this meeting to make sure we have complete information.
Meeting #2: Clarify (60-90 minutes): At this time, we will tie off any loose ends or missing documentation that were discovered during our deep dive into your uploaded documents.
Meeting #3: Calculate Plan Design (60-90 minutes): By now, we will have plugged your financial and tax data into our models to understand how your situation may change under different life scenarios. We will discuss the underlying assumptions and factors that shape the model.
Meeting #4: Review & Implement: (60-90 minutes): It is now time to review the information that we have provided, to make a plan, and to act based on that plan.
After completing our 12-week onboarding process, clients continue with an annual planning engagement that includes two review meetings per year and on-demand support. Our ongoing support includes:
Annual review of investment and retirement accounts (ongoing investment management throughout the year with option "investment management")
Budget Meeting: review current cash flow and check in on savings and spending rate. Answer any questions about upcoming purchases (car, real estate, a big trip, wedding, etc…)
Tax Review & Retirement Contributions: be prepared for your annual tax filings by gathering documentation and questions about how changes in your personal situation may affect your tax situation (marriage, divorce, children, move, job change, etc…). Ensure you are optimizing your retirement savings based on the country where you currently reside and where you plan to retire.
Insurance Review: We don't sell insurance, but we generally recommend at least obtaining term-life insurance if you have anyone who depends on your income. We will review any insurance policies you currently have and make recommendations on the appropriate coverage.
Estate Plan Review: review all accounts, confirm beneficiary information and current estate plan.
Education: We will calculate and plan for education costs and look for savings and tax planning opportunities. If you have student loan debt, we will review repayment strategies.
Charitable Giving: We will review your current charitable giving target and look for opportunities to maximize your annual gifting and legacy.
Employee benefits review: Do you understand your employee benefits? Are you leaving free money on the table? Should you sign that new contract? We can help you sort these out.
Prep for the upcoming year: tax law changes, international move, change in jobs? We've got you covered and will keep you updated and on track.
Connection to additional services: If necessary, Connected Financial Planning can connect you via our professional network to immigration, estate, tax preparation, and real estate services in various jurisdictions.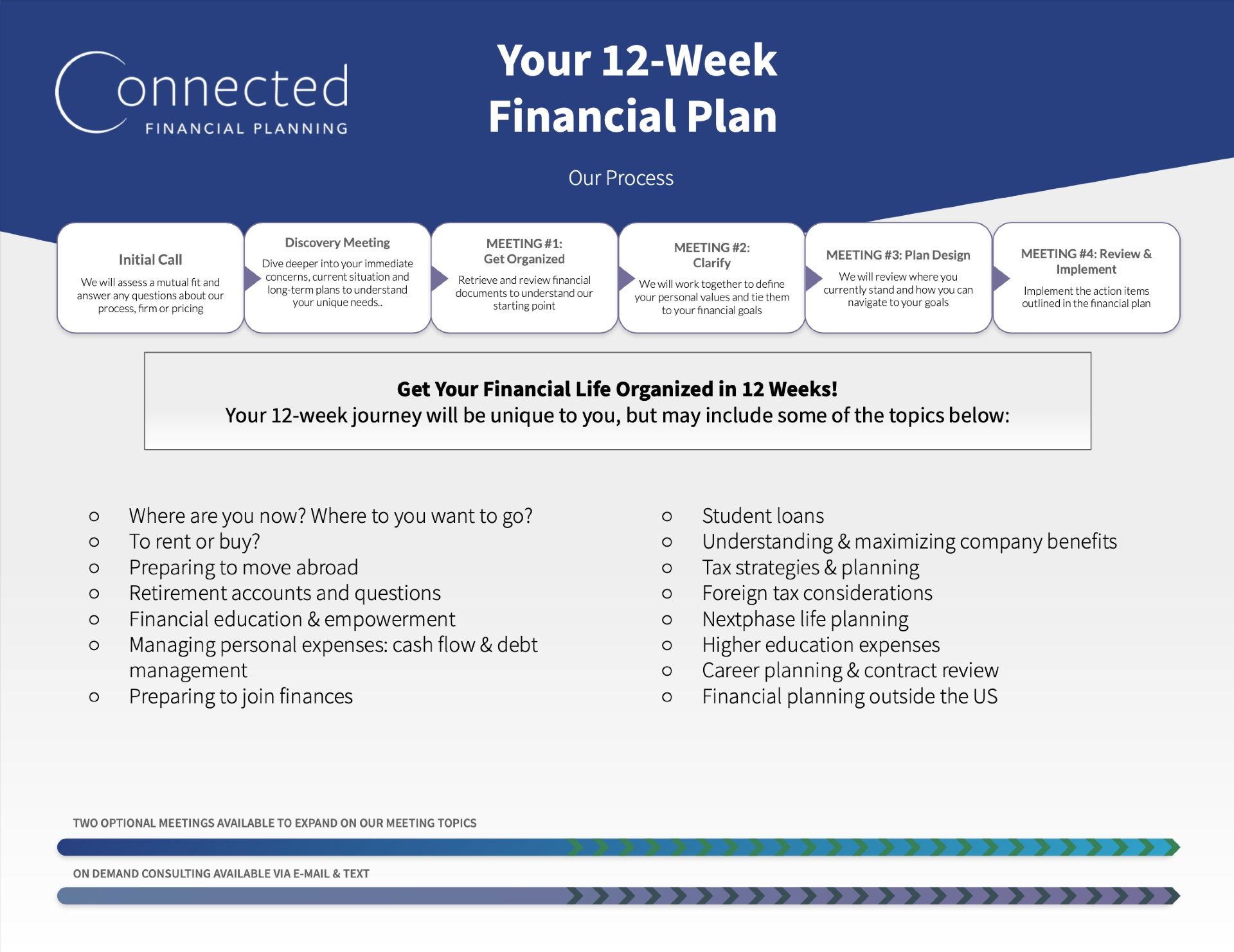 Planning Service Fees
12-Week* Onboarding: $3,600 for individuals, $4,500 for families/complex situations
Half ($1,800/ $2,250) is due upon the signing of the engagement letter

The remaining balance ($1,800 / $2,250) is due after 9 weeks
*Clients who need additional time to complete their 12-week onboarding can extend the program from $500 per month
2. Ongoing financial planning for clients who have completed our comprehensive 12-week onboarding process. We aim to have long-term relationships with clients seeking ongoing, proactive financial planning and continued support. Clients at this level can add tax preparation and investment management. Our final fee will be quoted after the completion of our onboarding process.
Individual Planning: from $1,250 per quarter ($5,000 per year). Single individuals with salary income only.
Family Planning: from $1,500 per quarter ($6,000 per year). Families of all kinds (married, partnered, head of household with children) with salary income only.
Complex Situations: from $1,875 per year ($7,500+ per year). Individuals and families who may be business owners, have multiple country considerations, real estate investors, immediate estate planning needs, etc
Financial Planning with self-managed investment support: from $10,000 per year. You are comfortable managing your accounts and implementing our investment recommendations without our help.
Planning & Tax Concierge Service: from $3,750 per quarter ($15,000+ per year). This is for busy executives who want us to fully coordinate their US and local (foreign) country tax situations. Price will be based on the complexity of the situation, the number of country filing obligations, and the forms needed to be filed.
1Optional: US tax preparation is available from $1,500 per year (complex situations will have an additional surcharge that will be agreed upon in advance)
2Optional: Investment management is available through our partner XY Investment Solutions; the fee is determined by the account value (Assets Under Management)
We generally define your situation as complex for onboarding if any of the following applies to you:
You are planning an international move within the next 12 months
You own a business, or are you in the process of organizing one
You are considering purchasing foreign real estate within the next 12 months
You have complex equity compensation considerations (beyond standard concerns)
You are a senior executive with a complex compensation structure
You have immediate estate planning needs and considerations
You are planning on retiring within the next five years